GoWish's Proven Value for EOL Draws Government Support Internationally
Coda Alliance's pioneering program, now employed in multiple nations throughout Europe, Asia, the Middle East, the Pacific Islands, and the Americas, is drawing the supportive attention of several governments. The GoWish card game proved highly successful in breaking taboo barriers related to death and dying—for all ages. Research for each culturally adapted deck resulted in a decrease in the end-of-life conundrum for patients, families, medical, and religious personnel, while reducing public costs.
Coda dedicated GoWish to enabling patients at the end-of-life (EOL) to choose how they wish to live and die. The game's played with family, and/ or caregivers, to ensure everyone's on the same page in honoring the individual's wishes. Discussions enable families to give input, while focusing on the patient's wishes. Players choose from a deck of 36 cards, each containing a suggestion for what a person might want, such as
I WISH
• To die at home
• To have my family around me
• To ensure my family knows what to expect
"We created and tested a pivotal, fun sorting card game to help people easily start a comfortable conversation and choose their own way—in life, and at the end-of-life," said Cindy Safe, a leader of the professional, all volunteer board.
Why are the cards successful?
• They introduce new concepts, talking points & thought-provoking ideas for the patient, family, and caretaker players.
• Cards are valuable for many settings (home, palliative care centers, hospitals, EOL group meetings,) and at any age or under any circumstance.
• They're simple and non-threatening with a familiar format and even fun.
• Working closely with Coda Alliance, each country adapts the cards specifically for their cultural beliefs, principles, attitudes, and values. For example, the Pacific Island Group entitled their new cards "Navigating the Course."
- Why? Because the "GoWish" title doesn't fit their cultural environment.
• Countries, such as Switzerland, with varied populations, translate the cards for each ethnicity with their country. Swiss cards come in German, French and Italian.
But Coda's EOL goal benefits all countries, all languages, and all cultures:
"Coda empowers easier, early end-of-life conversations, enabling you to Take Responsibility, Choose Your Own Way, and Embrace Life."
The Latest Nations to Join Coda's GoWish Team
U.S. SPANISH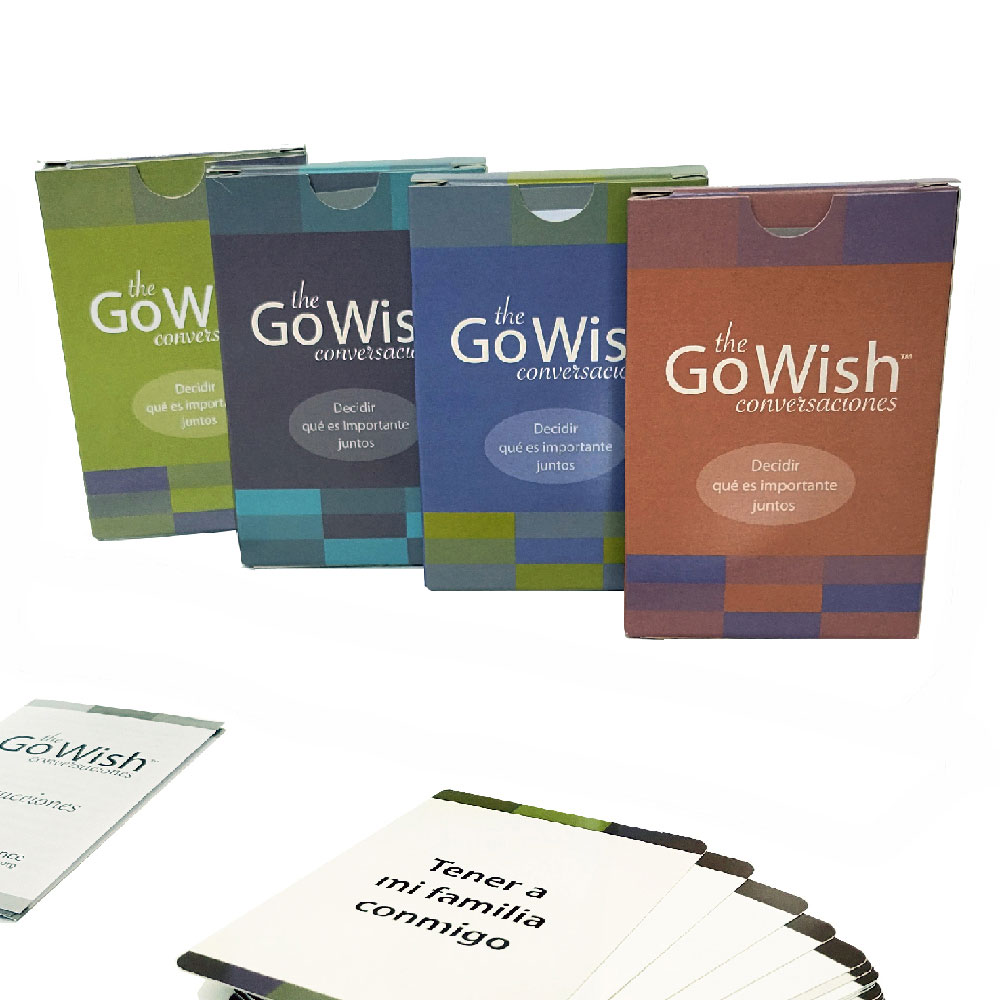 GoWish Conversaciones (Western Spanish American)
Developed by Coda Alliance
The innovative, advance care planning tool "GoWish" cards are available in Spanish, and include cultural-specific messaging regarding end-of-life wishes. Coda Alliance worked with a variety of hospice and palliative care people to develop the "GoWish" cards which are an easy, entertaining exercise that facilitates end-of-life care conversations. "Translating "GoWish" cards in Spanish is one more way we are committed to helping every person engage in conversations about future healthcare decisions," said Dr. Menkin, founder of Coda Alliance.

"Not only do patients benefit from discussing their wishes, but "Go Wish" cards help their loved ones feel more confident making future decisions on their behalf, if necessary," said Dr. Menkin. "Knowing that choices have certain consistency but are not etched in stone helps the patients' loved ones feel they may have some leeway in making future decisions."
ISRAEL
Kol Haklafim al Hashulchan (Hebrew)
Adapted by Keshet Hamishalot Foundation
According to Yael Ooch, of the Keshet Hamishalot Foundation, people in Israel are afraid to touch the topic of death discussions. She relates that that only about 1% understand Do Not Resuscitate policies; there are no signs on hospices and little information about them. And the awareness of palliative care, or even end of life advanced directives is sorely lacking. In fact, though considered economically a "Western" nation, Israel is only rated 25th on The Economist's 2015 Quality of Death Index.

"It's like a horse with blinders, even amidst all the violent news. People have developed a thick skin and are always in survival mode. So there's not much time to think about what happens "if"," she continued. "We knew that we needed to create awareness with a deeper meaning for something so important. We knew that we could make life – and death -- much easier for patients and families, So, when we searched for pioneer ways to introduce the topic and decrease the fear, we found Coda." CLICK TO READ MORE
The team spent two lecture days using the GoWish cards with spiritual leaders, who they found were amazed by the program and most anxious to get it going in Israel.

This led to a close partnership between the Keshet Hamishalot Foundation and Coda Alliance – the idea being to customize GoWish. Why? "With so many religions, cultures, beliefs, and languages, changing attitudes about a sometimes-taboo discussion is a daunting task. We needed "pioneer" ideas and methods to do the trick," Ms. Ooch explained.

And, since much of the focus is on palliative care, Keshet Hamishalot even worked closely with Coda to add GoWish-like cards related to hospice election along with the many choices the cards already offered.

Keshet Hamishalot programs include:
- "Gong" workshops in hospitals for medical personnel where they introduce Go Wish
- A Tagalong for Philippine caretakers with the Philippine ambassador taking part in Go Wish
And plans to implement GoWish in some other programs chosen from - Cafés of Haderech (which we call death cafes)
- Wish fulfillment
- Screening movies on end-of-life
- Lectures
- A program of "theatre play" for grandparents and grandchildren
- "Days of the Dead" festival (gleaned from the Mexican celebrations) including puppet shows
- A "before I die" wall

" We know that we'll learn a lot more from people who'll be playing with Coda's GoWish cards," Ms. Ooch added. "And, of course, we'll share that information."
SWEDEN
DöBra (Swedish)
Adapted by Karolinska Institutet (KI)
DöBra cards can be used as a tool to help reflect and talk about "What is important to me at the end of life?"

The DöBra card game consists of 37 cards, each with a printed statement about something that may be important in the end-of- life, for example: "To be free from pain", "To have my financial affairs in order", or "To have my family with me", as well as 'wild cards' to add your own alternatives.

The cards, developed by Coda Alliance, a non-profit organization in the United States, have been translated and adapted to Swedish with permission the project group for one of the DöBra projects, called Advance Care Planning (SWE-ACP). The cards are used for research purposes in both this project and in the project Death and dying in elder care.

DöBra cards are now available for purchase, through Volante, online book companies, and some bookstores. Please note that the DöBra program does not receive profits for this.
FRANCE
Adapted by Federation Jalmalv
The close bond of France's end-of-life organizations empowers a strong influence that led to some of the most comprehensive patient laws in the world. Those rules regarding dignity, respect for life and the right to choose are now being enhanced by Coda's GoWish card "game".

Partnering with Coda is France's prominent nonprofit, Jusqu a La mort Accompanier La Vie (which means accompanying life until death) (JaLMaLV). The long-established group, dedicated to supporting palliative care patients, now has as its motto "Until Death, Care for Life" – a motto connected to Coda Alliance. The two organizations have much in common. Run by volunteers, both groups acknowledge that their major goals are: CLICK TO READ MORE
- To change attitudes about death by spreading the word about the importance of "End of Life" discussion.

- In France this is known as "Solidarity" – a dedication to changing societies attitudes about illness, aging and death

- To ease end-of-life family conversations and support the right to choose, by admitting a bit of fun into the process -- knowing that this makes a tough talk easier

JaLMaLV launched the French version of Coda's GoWish card game on March 16, 2018 in Antibes Juan les Pins, French Riviera at their annual Congressional Palace – as Coda's representative, Cindy Safe, looked on proudly. Named "À VOS SOUHAITS ", meaning "In line with your wishes" ( pretty close to "GoWish)}, the card's design included input from two other major nonprofit JaLMaLV partners: SFAP, for end of life, and APICIL, for heavy pain care. These partners, together, can generate enormous GoWish awareness in health fields and welfare care.

In fact, following the massive meeting, cards were distributed to all of the local groups in the country to begin their use in palliative care. But benefits go far beyond just palliative care. Besides accompanying patients and families who need end-of-life assistance, the organization promotes research and education about end-of-life preparation for adults and children.

"We are also doing a sort of public outreach for youth and adolescents," indicated JaLMaLV president Jean-Marie Schwertz. "It's a reason to discuss, to talk about anticipated directions. There is no age barrier for this conversation."
U.S. VIETNAM (Represents the Vietnamese community in the U.S.)
The Lotus Light Path (Vietnamese)
Adapted by Supportive Care Services (SCS) Foundation
Lotus Light Game is a communication activity designed to make it easier for a family member, a caregiver, or a health provider to understand what a loved one wants done when life is ending. However, it is also used with perfectly healthy people who want family members to know what they would like when their lives are threatened by injury or disease. Lotus Light Game consists of choosing and discussing cards on which individual end of life issues are presented. Each Lotus Light Game deck contains 42 content cards and two "Wild cards". Each content card addresses a separate end of life issue. Each deck contains instructions in both Vietnamese and English, so they can be used independently.

The Supportive Care Services Foundation was born out of a need to address the "medically under-served" in the Vietnamese community. Our founders recognized that one barometer of this fact is that the length of stay on hospice care is very short -between 24-48 hours. This last minute access to such a valuable patient benefit is painful to acknowledge. Patients often arrive on the doorstep of hospice dangerously close to death. The perception becomes that hospice equals death. We felt that one way to change this perception and improve access for this community is by creating educational materials specific to this community. The Supportive Care Services Foundation believes no one should suffer due to lack of access to information.
CHINA


Heart to Heart (Chinese)
Adapted by Chinese Coalition for Compassionate Care (CACCC)
Each deck of Heart to Heart® Cards contains a total of 54 cards, including 2 customizable Jokers (Special Wish cards). Each suit of cards represents a special need. And a different issue is printed on each of the cards, with the exception of the Special Wish cards.

One pack contains 4-deck of four different colors, so players can easily identify their own cards. Each deck contains instructions in both Chinese and English, so they can be used independently.

We also conduct Heart to Heart® Cafés, a communication activity designed to make it easier for a family member, a caregiver, or a health provider to understand what a loved one wants done when life is ending with perfectly healthy people who want family members to know what they would like when their lives are threatened by injury or disease.
JAPAN
Moshibana (Japanese)
Adapted by Initiatives with Altruism and Compassion for a better Place (iACP)
Coda Alliance worked with the Japanese Initiatives with Altruism and Compassion for a better Place (iACP), who developed the Japanese version of GoWish.

Through the Moshibana game we offer an experience that may help one realize what matters most in life is different for everyone and sometimes changes. Our activities are not aimed at promoting advance care planning as we do not intend to force the process onto those who are not ready.

When played along our original rule (named the "Yoshida Rule"), four players face their inner selves, verbalize them, and at the same time listen to the thoughts of others by discussing what is important in life if they have only six months to live. This experience of facing oneself through shared dialogue could enlighten and change one's perspective. The dialogue itself — rich in diverse values — provides us with a lot of inspiration. It reminds us not to assume we understand others. It also sometimes opens the door to dialogue with those who have passed away. Thinking deeply about someone is the gateway to compassion. The awareness through the game may not be confined to one's own end of life, but may lead to a place of altruism and compassion. We hope to share this thought-provoking experience with many.
BRAZIL
Cartas na Mesa (Brazilian Portuguese)
Adapted by Brazilian Society of Geriatrics and Gerontology (SBGG)
Talking with patients about their end-of-life preferences is one of the most important things that happen throughout the follow-up. Still, many professionals find it difficult to start such a delicate conversation.

The Brazilian Society of Geriatrics and Gerontology, through its Permanent Committee on Palliative Care, sought a facilitating resource. "Letters on the Table" (Go Wish ® ) is more than a game. It is an opportunity to listen to patients, facilitating for them the expression of their wishes and preferences towards the end of life.

"Letters on the Table" was developed in the USA as GoWish, a self-applicable game for the lay public, in two modes: Patience and Doubles. However, due to the complexity of the end-of-life issue, the SBGG offers additional guidance [https://sbgg.org.br/projeto-cartas-na-mesa/proposta-de-encontros-teorico-vivenciais-de-carater-informativo-e-reflexivo/] to professionals so that this resource is used in a safer and more consistent way in Brazil.

"Letters on the Table" consists of a box, an instruction manual and 36 cards. The cards and the box exist in two versions, in the colors blue and orange, so that two people can play at the same time without confusing their cards.

This material is a pioneer in Brazil. SBGG has an exclusivity agreement with the Coda Alliance, creators of GoWish, for the development and commercialization of the Brazilian version.
ENGLAND
The Conversation Game™ (British English)
Adapted by Conversations for Life™
The Conversations for Life™ Programme offers tools and inspiration for families, professionals and communities to start talking about end of life care now.

Why do we care?

Like you, we each have our stories of love and loss. Some beautiful, others harrowing. Like you, we are also looking ahead to our own future care, want the best, yet know that's not guaranteed-especially if we do nothing. We were crazy enough to believe we just might be able to make a difference. We combined our visions for what we hoped for our future, our skills and experience as an international healthcare educator and designer, and our passions for social innovation to help people turn their experiences, like ours, into positive actions for change. Why? Because we believe the quality of our lives and our future care depends on it.
BELGIUM ASPPN
A Vrai Dire (French)
Adapted by Association des Soins Palliatifs en Province de Namur asbl
Palliative care is a legal right for End-of-Life (EOL) patients in Belgium, regardless of their life expectancy. However, as in many countries, patients often erect barriers towards taking advantage of any kind of EOL help. "The Association des Soins Palliatiffs en Provence de Namur," which presently offers EOL support, home nursing and psychologist bereavement support, is working to open the doors to acceptance. Working with the Coda Alliance, the organization adapted culturally specific cards in French, to break the taboo by enabling patients to easily, and comfortably, open EOL dialogue. Their cards have proven successful in helping patients express what they want and share that with their families, caretakers, and medical professionals.
BELGIUM
Levenswensen (Dutch)
Adapted through a Collaboration between Landsbond derChristelijke Mutualiteiten (CM) a non-profit health insurance fund and the End-of-Life Care Research Group of the Vrije Universiteit Brussel (VUB)
The Vrije Universiteit Brussel's EOL research group brings together scientists from various specialties to collaborate on multi-disciplinary research for EOL. The practice-based projects are carried out with governments and health care organizations across Europe. Created by the group's leaders, the non-profit CM Health fund is dedicated to patient rights, including Advanced Care Planning. The organization plans to use the GoWish cards as an important element of a campaign to raise awareness of EOL issues. Excited by their findings, they presented the customized cards to the Flemish government, who expressed enthusiasm about the value of the group's GoWish cards.
Meine Lebenswünsche (German)
Adapted through a Collaboration between Landsbond derChristelijke Mutualiteiten (CM) a non-profit health insurance fund and the End-of-Life Care Research Group of the Vrije Universiteit Brussel (VUB)
Mes Souhaits De Vie (French)
Adapted through a Collaboration between Landsbond derChristelijke Mutualiteiten (CM) a non-profit health insurance fund and the End-of-Life Care Research Group of the Vrije Universiteit Brussel (VUB)
SWITZERLAND
Meine Wünsche für mein Lebensende (German)
Adapted by Swiss Pro Senectute
Swiss Pro Senectute is a foundation that holds the government mandate to provide services for seniors and their supporting relatives, especially the socioeconomically vulnerable. An aspect of their directive focuses on ensuring their members plan legally sound statements regarding EOL arrangements. And according to Swiss law, family and medical personnel must strictly adhere to and respect these statements.
However, social workers reported many elderly had difficulty defining their EOL wishes, while families found it too hard to speak about their loved ones' deaths.
Introduced to GoWish during their research, the idea of translating the cards became a valuable instrument in engaging elders to start dialogues on a difficult topic.
The organization is adapting GoWish to three sets of cards — German, French and Italian to use in EOL situations. Once the initial three sets are adapted, the cards are sent to gerontology-sensitive regional translators.
Mes volontés pour ma fin de vie (French)
Adapted by Swiss Pro Senectute
I miei desideri e volontà per il resto della vita (Italian)
Adapted by Swiss Pro Senectute
U.S. PACIFIC ISLANDS
Navigating the Course (English)
Adapted by the Pacific Island Consortium
In response to a highly complex situation which causes severe limitations in healthcare, the Centers for Disease Control (CDC), the National Association of Chronic Disease Doctors (NACDD), under which sits the Pacific Chronic Disease Council (PCDC) banded together to adapt the customized cards for the United States Affiliated Pacific Islands (USAPI).
The citizens of the USAPI are extremely diverse culturally and speak more than a dozen languages. But naming the GoWish cards "Navigating The Source" attracted all cultures. Working with leaders of all the island groups enabled the organizations to develop two decks to serve all constituents. Paid for and scrutinized by the American government, Go Wish cards can reach the 500, 000 inhabitants living in the hundreds of remote islands spread over millions of miles of the Pacific. Coda Alliance can be contacted for questions.